William "Bill" Wheeler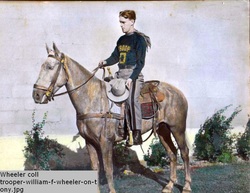 Family members members have provided a large amountof material from a scrap book. He was a proud member of the Troop "D" Rough Riders. The material is primarily newspaper clippings.

Willliam F. Wheeler served from March 1, 1927 - June 30, 1948. Final Patrol, May 28, 1991 and is resting in St. Peters RC Cemetery Oswego, NY

Two pages, career (several 1930s milk strike) Spl Events, #2 which includes the Rough Riders.
---