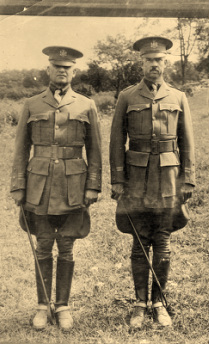 Superintendent Chandler and his Deputy Superintendent Percy E Barbour in a well publicized picture. One would have to think, "the very first" uniforms. In 1938, Dr. Chandler, wrote a paper on the founding of the New York State Troopers which contained information about designing the uniforms. The paper was published as"Dawn Days of the State Police". Use the button below to read it.


1954 saw a big change when new light gray uniforms with trousers replacing the breeches were introduced. These uniforms included, for the first time, the New York State Police patch on the left shoulder of the shirt and jacket. The revolver was moved from the left, to the right side.

Gov. Dewey's wife did not like purple and

blue hat bands and ties

were introduced. Troopers, being traditional, the blue soon faded.




A 1930's Syracuse newspaper clipping reviewing status of former debutantes. "Miss Schultze taught German classes until she became the bride of Col George F Chandler, first Superintendent of the New York State Police and she designed the police regalia, slate colored with a purple tie.
Captions, if any, displayed by hovering mouse L or R side of image
---