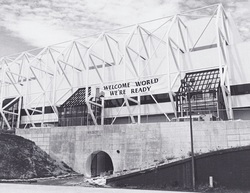 The sign hung on the new arena addition. It was spectacular and was given a lot of TV time. The Lake Placid rumor mill credited the PBA. It is also believed that there were bumper stickers. A scanned example and a color photo of the sign would be appreciated. Slides located at the Academy did not contain any good images of the events or Troopers at work. Somewhere, someone has copies of other slides.
To preserve that history, use the contact button, please. That button redirects to my email.

The link below will take you to a great (Official) page for more information.
http://www.olympic.org/lake-placid-1980-winter-olympics
On this page are many pre-Olympic B & W images and some that were personally taken at the Olympics where the American hockey team was my detail. Also taken at a pre-Olympic training detail. No particular order, personal photos were slides which have been digitized, but not enhanced. There are many behind the scenes images.
---