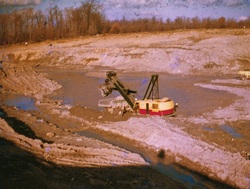 A little history - Eisenhower lock under construction.
In 1955 and 56 I attended high school in Massena while my father worked on the Seaway. That machine was his, working on the Eisenhower Lock. In1973 I passed the little remembered BCI test, promoted and transferred to , Troop B, Massena.
(Ted M Palmer)
The people of Troop B were the greatest!
---