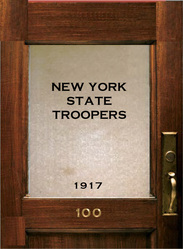 The headquarters for the New York State Police have been located at several areas in Albany, New York. An unknown list provided the minimal information below. Moves averaged about every 5 years in the first forty seven. The current address has held for over fifty years.
The second* location was (1917) room 100 in the Capitol Building. It was on the door of the office that Major Chandler had "New York State Troopers" painted. The second floor of the Capitol building was the next, then to 36 North Pearl St., which is indicated as being destroyed by fire. The City and Country Savings Bank Building
(may have been the Albany Savings Bank )
was next. Another unverified source mentions the Albany Evening journal. A move is indicated as the "Plaza" offer no clue as to address. On to 190 State Street, then back to the Capitol Building, fifth floor and then 162 Washington St. *(The first location was a room in the Telephone Building courtesy of the Adjutant General. To bad the "Door" wasn't moved every time.
The present location is known by the unglamorous address of Building 22 State Campus. The official location is the W. Averell Harriman State Office Building Campus. It was occupied in 1964, shared with another state offices. The State Police Academy was built next door three years later and the Forensics Center in 1994. * wikipedia
The images are informal, in no particular order and general in nature of men and women who have served at headquarters or Commissioned personnel. There are over 100 images on this page and includes officers who may not have been assigned to Div. Headquarters. Paper file which are better viewed as pdf files are a future project.
---