George E Cowburn Troop "D" 1924 - 1964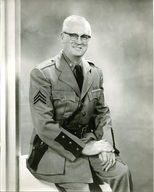 George was recruited from the Manlius based NY Nat'l Guard Unit. He was an excellent rider and immediately became part of the Troop Rough Rider Team. A serious injury occurred while practicing ended his riding. His scrapbook is large, over 600 images were made. About 150 are included here. Almost all are newspaper photos and clippings. If you are a clipping reader and like to dig into names and places, this is for you. Separately included are over 150 images of the 1933 milk strike and Rough Riders. Many names are within the clippings of Troop members not otherwise found.
Digital preservation of scrapbooks present several problems. Removal causes damage and destroys the basic integrity
. A good digital camera is used, natural light is a must, a steady hand, each page is imaged, then separate articles on that page. Later each article is read, cropped and adjusted. The camera image file name is changed to a meaningful one. There are several methods of readability presentation. Clippings present difficulties in reaching a satisfactory level of readability. Adobe reader, a common free program is required. The are resented as pdf files which adds some clarity and gives the user control over magnification using the "+" and "-" (plue and minus symbols). Comments are appreciated, jpg copies of the files are available.
---
Additional Troop D Rough Riders images can be found on the Troop D page. Use the button above.

A high degree of riding and athletic skills, combined with hours of practice produced amazing results. Look closely at the saddles taking note of the additional handles. Numerous media photos have been located however not many actual photographs.


---

Lieutenant Tremain Hughes 1896 - 1932, enlisted* in the State Police 1918, and re-enlisted twice more before the procedure was changed. His rapid rise in rank attests to his abilities. Additional images can be found on the Troop D page.





---
---